Daisy-Gold Goldens have champion lineage, but are bred as loving family dogs.

Lizbeth Barrows
Certified Breeder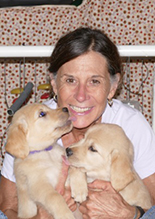 Daisy-Gold Goldens is a family owned and operated breeder in Attleboro, Massachusetts.
Our business is concentrated on raising family pets and our Goldens come from OFA certified and AKC registered American champion lines.
How it all got started
Daisy was my 1st Golden & began me on the road to becoming a hobbiest / breeder. She was my initial introduction to the European Golden.
It has taken several years to acquire knowledge about the European Golden. The European Golden was evolved between the Water Spaniel and the Newfoundland.
At the Guisachan House, the home of Lord Tweedmouth, in the ruggedly beautiful county of Inverness in the north Scottish highlands, it was here the first Yellow Retrievers were bred and raised. Lord Tweedmouth carefully worked out a plan to make a yellow retriever breed. It was between Lord Tweedmouth's yellow Retriever, only one, Nous in Brighton in 1865. He is said to have told his grandson it was a "sport" in a litter of blacks, and Nous is recorded as bred by the Earl of Chichester.
Two years after Nous' arrival, he was bred with Mr. David Robertson's Tweed Water Spaniel named Belle. Lord Tweedmouth gave many puppies he bred to friends, others were put out with keepers and bred from, so that the yellow Retrievers in the hands of gundog men, at that time seldom interested in pedigrees but only in how their dogs worked, would have been crossed with black Retrievers or with Setters, without compunction.
Whatever did happen, Lord Tweedmouth's systematic yellow line-breeding in Scotland laid the the firm foundation of the Golden Retriever as a breed.
Health and Longevity
Here at Daisy Gold-Goldens, we only breed Goldens who have all their health clearances. They must have passed their hip and elbow exams by OFA or OVC if from Canada and must have a heart clearance from a veterinary cardiologist, as well as a yearly eye exam from a veterinary opthamologist, stating they are eligible to receive CERF certification. In addition, we have begun doing Optigen testing to screen for genetic disorders that are known to exist in Golden Retrievers, such as Ichthyosis, PRA1 & PRA2, PRCD. This gives us additional information to help us make wise breeding decisions, always striving to improve the future of our Goldens.
Because of our commitment to the breed and complexities of breeding, it is our strict policy to sell all puppies on AKC Limited Registration Status only, unless I am dealing with breeders already known to me.
We do not keep more than 4 active bitches (females) in our breeding program here at Daisy-Gold Goldens at any one time.
Daisy-Gold Goldens are bred for temperament and health. All puppies are home raised, well socialized and receive constant attention. They are started on basic obedience training prior to going to their new homes.
Our goal is to raise a well adjusted, happy puppy that you can live with.
Thank you for visiting our website.
Daisy Gold Goldens has 3- 4'x12' areas for whelping up to three litters at one time.
Enough room for play and litter box training until about 5 weeks of age. They then have an extra 9'x12' area for play. The whole area is well lighted, heated, and air conditioned. The floor is non-slip vinyl. The pups listen to classical music with intermittent everyday noises so they will be desensitized.